Artificial Turf Installation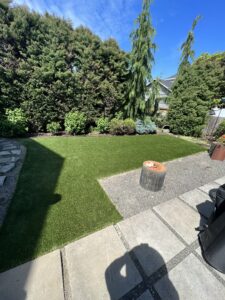 Looking for an artificial turf lawn? Let us take on the project. We have installed multiple artificial turf lawns, and can help you too! We mainly specialize in smaller backyards, but don't hesitate to contact us to see if it's something we can do. We use only premium grade EPS Supreme Turf and do all preparation needed from start to finish. The quality of the turf has only resulted in satisfied customers in all the years we have been offering this service. Save water, money and time with an artificial turf lawn!
Earthborn Landscape Services offers artificial turf installation throughout the Portland Metro area, including Portland, Clackamas, Gresham, Happy Valley, Lake Oswego, West Linn, Milwaukie, Oregon City, and the surrounding areas.
Contact us for a free estimate or more information on artificial lawns today!