Sod Installation Portland Metro Area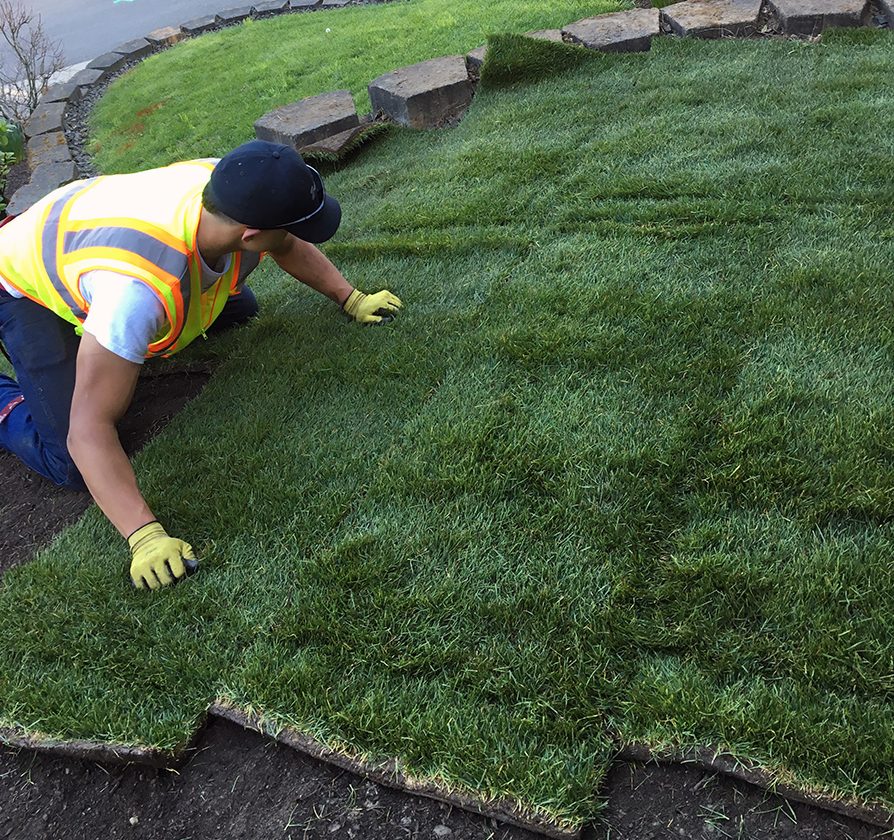 Time for a new lawn:
Tired of battling that old lawn that never seems to be doing well? Or maybe you have an area in your yard that would benefit from a new lawn? Then don't hesitate to contact us and get a free quote from Earthborn! We purchase our sod from a local Oregon farm, that is cut fresh every morning and do the sod installation the same day! Whether you are replacing an existing lawn, or just moved into a new home and need a new lawn installed, you will not regret having a brand new lawn installed by Earthborn. We have professionally installed over 140,000 square feet of sod (as of Aug 2019) with excellent results and we take great pride in that. We are the sod installation professionals in the Portland area.
Our Process:
First we remove and haul away the existing lawn with a sod cutter. Next we apply new soil, using a 3-way blend mix. Then we roll the soil with a lawn roller and fill-in any holes, smooth out bumps and make a smooth surface. Next we install the fresh sod, roll the new lawn and cut out the design. We then apply starter fertilizer as well as lime insuring a healthy start for the new lawn. Last, we water in the new sod (if necessary) and cleanup our mess, leaving your property nice and clean!
Sod Types:
1) Oregon Turf & Tree Farms Sod Blend

(Premium Perennial Ryegrass)
Uses: The overall choice for most lawn applications
Deep dark green color
Disease resistance for the Northwest
Tolerate low mow height well
Good traffic tolerance
Updated with high rated NTEP varieties
2) Tall Fescue Sod
Uses: Drought tolerant sod
Very dark green and dense
Tolerates partial shade slightly better than ryegrass
Wider blade, but finer than most tall fescues
Low growth habit and tolerates low mow height
Good stem rust and gray leaf spot resistance
Extensive deep root system requiring less frequent irrigation
Best of the tall fescues for the Pacific Northwest's cool wet winters
FAQ:
What is your minimum job fee?
Our minimum job fee for sod installation and new lawns is $1250.
How long does it take to install?
An average new lawn install takes about 1-3 days from start to finish, depending on size.
Do you guarantee the sod?
We guarantee the new sod for 14 days after the installation as long as there is a sprinkler system in place. After that, it is the customer's responsibility to maintain the new lawn and keep it healthy. A new lawn or sod is essentially a plant, and if not maintained then it will become unruly and unhealthy.
Get Started:
Simply submit your request for a free estimate and we will be happy to help you!
Offering sod installation and new lawns in the below cities:
Portland, SE Portland, Sellwood, NE Portland, SW Portland, NW Portland, PDX, Happy Valley, Clackamas, Gresham, Gladstone, Oregon City, Canby, Tualatin, West Linn, Lake Oswego, Camas, Vancouver, Tigard, Beaverton, Milwaukie, Damascus,